This week has been kicking my butt, for numerous reasons. In fact, my awkward list was already pretty much done before I even sat down tonight.
Thankfully, the weekend is almost over and the weekend is coming!!! I have two transcripts to edit tonight (2ish hours) and 3 hours of work tomorrow, and then I'm home free. With no plans as of yet, but I'm sure I'll come up with something.
On that note, here's my awkward and awesome, even though the lovely Sydney is not taking part this week.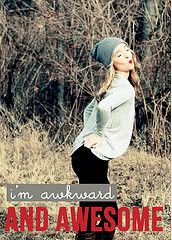 Awkward:
- the smiles at strangers when eye contact is made that probably look more like grimaces.
- driving to campus, thinking I forgot my parking permit, parking at the other end of campus because of it, and realizing my permit is in my coat pocket as I walk to campus.
- speed walking across campus and ending up completely grossly sweaty. I'm a professional.
- waking up enough before my alarm that I'm sad, but close enough that it's not worth falling back asleep.
- leaving my car unlocked not once, but twice. Once over night in front of my house and today on campus. I'm so smrt. Luckily nothing bad came out of it.
- how much cutting and cooking onions makes me cry. I just get so emotional about it.
Awesome:
- a paycheck, for the first time since before Christmas.
- the experimental dinner I just made: mafe with quinoa (substituted for rice) that turned out a-ma-zing.
- getting my parking ticket downgraded to a warning. Thank you parking services!
- updated girl's weekend schedule with the cousins: spa day and fancy dress-up lunch. I can't wait for next weekend.
- calling to make a hair apointment today and being able to get in next Wednesday. It was like winning a mini-lotto!